Software development services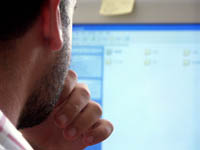 Neoware offers cost-effective software programming services, from feasibility study, through software design, development and quality assurance to maintenance and support services.
In order to that give the customers complete and effective control over their business processes we offer the solutions varying from standalone applications to client/server solutions employing either thick clients or thin clients. Client/server architecture helps the customers in reducing their operational costs by decreasing the maintenance costs, reducing turn around time for each change of system functionality and centralizing the data storage. This leads to improved productivity and increase of customer satisfaction.
Complementary to this, a complete range of our web development and hosting services covers the requirements of different industry verticals such as Real Estate or Retail and our client engagements include private as well as governmental institutions. We intend to help the customers to communicate effectively with their target audience. In order to achieve a high rate of a visitor retention we implement visually appealing websites with attractive, user-friendly graphical interface. A compelling marketing tools SEO (search engine optimization) and SEM (Search Engine Marketing) can further help the website to achieve high rankings in search engines and increase the number of visitors to a website.
In addition to web presence development Neoware offers sophisticated and proven solutions for extension of the website with e-commerce functionalities, including integration with major payment gateways.
Neoware offers as an accompaniment to the design and development services the infrastructure and application hosting in virtualized environment. The regular investment in infrastructure and software technology has further facilitated us to deliver the solutions based on cutting-edge open-source technologies.
Neoware provides its customers with a sustainable competitive advantage by offering cost-effective software solutions and services, including software development, software maintenance and enhancements, support services and consulting, accompanied by the infrastructure and application hosting services.
Please refer to our
technologies page
to learn which technologies we use to create our software applications.